Sign Up through an online program called "READsquared." READsquared offers activities and games for all ages including adults as well as a log to record your reading hours. You can download the READsquared app or visit the website You will receive a certificate through READsquared for your accomplishments!
ACTIVITY KITS The Community Library has created 40 "Take & Make Activity Kits." The grade appropriate kits can be reserved by selecting the appropriate link. One child per registration:
K-2 Activity Kit & 3-5 Activity Kit
FAIRIES & GNOMES: IMAGINE THEIR HOMES
This is a summer learning project of the Mohawk Valley Library System, whose mission is to provide a summer of magical opportunities for families working together — using social-distancing guidelines and natural "found" materials — to build fairy and gnome homes at their own residences, on library lawns, in community parks and other local sites — wherever the shy and mystical "wood folk" might be found! Families are invited to explore 518Fairy Homes— to create their own enchanted, folkloric worlds! When finished, families can post photos of their creations to #518Fairyhomes on Instagram or Facebook so the fun of finding other people's fanciful dwellings — or signs of the elusive wee folk — can begin! This is a way for families to celebrate the library summer reading program safely outdoors, build "STEM," and practice good stewardship of land and resources throughout their local communities.
FREE Zoom STORY TIME for all ages with Mrs. Babbage, Children's & Youth Librarian. Register for each program by clicking on the links below and you will be emailed the log on information.
Story Time Online with Zoom WEDNESDAY JULY 8, 10:45 am
Story Time Online with Zoom WEDNESDAY JULY 22, 10:45 am
Story Time Online with Zoom WEDNESDAY AUGUST 5, 10:45 am
Story Time Online with Zoom WEDNESDAY AUGUST 19, 10:45 am
Story Time with a Craft with Mrs. Babbage, Children's & Youth Librarian and in partnership with Harmony Acres & Partyland we are offering four LIVE "Story Time with a Craft" events for ages 1 and up. Mrs. Babbage will read a story, immediately following the read-aloud, children will create a unique craft designed by Nancy the owner/artist of Harmony Acres & Partyland. Due to current social distancing requirements these programs are limited to four participants on a first come first serve basis and will take place at Harmony Acres & Partyland located at 108 Union St next to the Library. If your schedule changes and you can't attend the session you signed up for please let us know so we can open your spot. To register click on the links below.
Harmony Acres StoryTime & Craft Thursday July 16 10:45 am
Harmony Acres StoryTime & Craft Thursday July 30 10:45 am
Harmony Acres StoryTime & Craft Thursday August 13 10:45 am
Harmony Acres StoryTime & Craft Thursday August 27 10:45 am
ARTS & Crafts with FREE Zoom Instruction in partnership with The Studio for Art and Craft
The Zoom instruction is recorded so you can watch the "How-To-Make Session,"on your time schedule. Each program is limited to 12 participants and after registering the Library will contact you for when to pick up your craft kit. Click on the links below to register.
"Canvas Painting" Ages 5 -Up Friday, July 17, 1 pm
STEM Activity "Catapult Structure" Ages 7-Up Friday, July 31, 1 pm
"Clay Sculpture" Ages 5-Up Friday, August 14, 1pm
TEENS! Read it Forward!
"Read It Forward" is a collaborative project of Upper Hudson Library System and Mohawk Valley Library System. This summer program allows teens (approximately grades 6-12) to read a featured title and pass the book to their peers who continue the cycle of reading and sharing. How does it work? All you need to do is read the book, share your comments, and pass it on to someone else. No due dates, no late fines, just Read It Forward! Call 518-234-7897 today to reserve your copy!!
A brief summary of "Croak" written by Gina Damico. Fed up with her wild behavior, 16-year-old Lex's parents ship her off to upstate New York to live with her Uncle Mort for the summer, hoping that a few months of dirty farm work will whip her back into shape. But Uncle Mort's true occupation is much dirtier than shoveling manure. He's a Grim Reaper. And he's going to teach Lex the family business.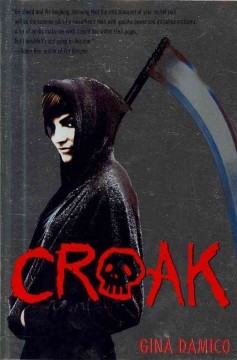 A brief Summary of "Nimona" written by Noelle Stevenson (format:Graphic Novel) " Nimona is an impulsive young shapeshifter with a knack for villainy. Lord Ballister Blackheart is a villain with a vendetta. As sidekick and supervillain, Nimona and Lord Blackheart are about to wreak some serious havoc."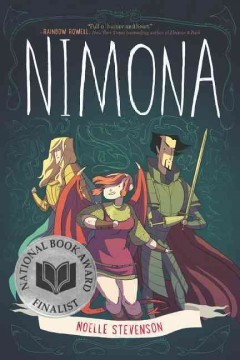 TEENS Ages 13-19 NEEDED!
The Community Library under the supervision of Mrs. Babbage, Children's & Youth Services Librarian, is looking to form a Teen Advisory Board. We are looking for teens willing to share ideas and suggestions. The Goal is to establish a Teen Advisory Board to help the library plan and create programs tailored to their interests. … Members get to have a hands-on role in making the library a more useful and fun place for teens. Please contact Mrs. Babbage if you are interested.