Reopening Hours
Tuesday, Thursday and Friday 10am – 6pm
Saturday 10am – 1pm
These hours are subject to change without notice.
Face coverings and social distancing are required at all times, no more than 10 patrons will be allowed in the building at one time for a limit of 30 minutes to browse the first floor only, pick up items, fax, make copies and use the computers.
Public meeting rooms are not available and Library seating has been removed except at the public computers.
We hope these changes to our community gathering place won't last long and we can return to those days of reading the paper and chatting with friends.
Curbside continues to be offered. Contact staff with your preference of pickup day and time.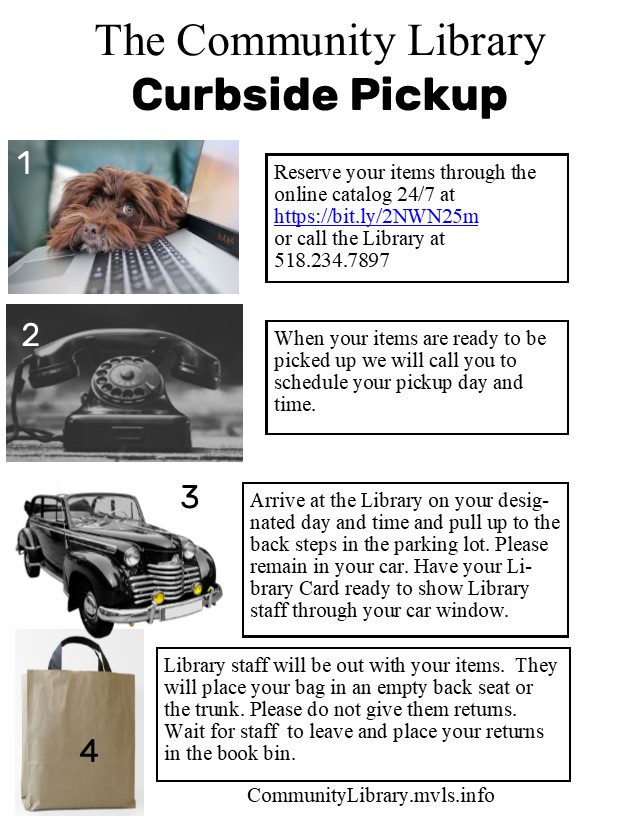 Public Computers by Reservation
We will be using a reservation system for the computers. You can go online here https://communitylibrary.mvls.info/cgi-bin/reserve.cgi to reserve one of four computers available or request staff to place your reservation. Only one person will be allowed at a computer. You will have 30 minutes.
Our Reopening Safety Plan Any contractor, vendor, visitor and staff must complete the Questionnaire below upon entering the building. Face coverings and six foot social distancing is REQUIRED
The Community Library is suspending fines on all Library resources until further notice.